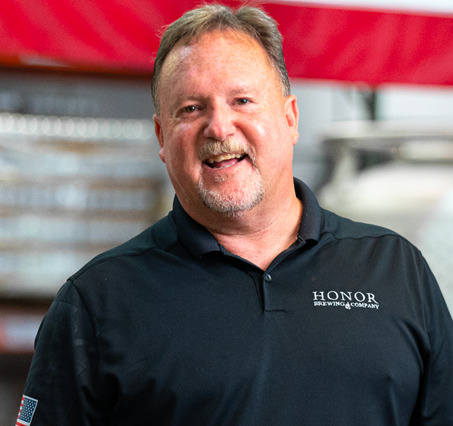 Favorite Honor Beer or Wine:
My favorite wine is Highest Honor, and my favorite beer is About Face.
"My creations in the kitchen are an outlet for me to express the importance of honoring all those that have served and are serving. " - Blair
Blair was born and raised in Northern Virginia, growing-up in Ft. Belvoir, Virginia. He was born into a military family; his father was in the Army and worked at the Pentagon. Blair graduated from Marshall High School and Elon University, before coming back to the Northern Virginia area to marry his high school sweetheart and raise their two children. While owning his own textbook printing company for 30 years, Blair dabbled in BBQ smoking on the side. On weekends, he visited BBQ competitions to observe and learn as much as he could from the competitors. He took a few classes, started having friends try his food, and catering requests came pouring-in for backyard birthday and high school graduation parties.  Blair entered a few competitions, and won Grand Champion at the Smoking on the Track BBQ Festival in Shenandoah, VA, in 2013. He went on to win 1st place in Pulled Pork, Brisket, and Chicken at the 9th Annual Bands, Brews, and BBQ competition in 2020. Honor Brewing Company's owner, Allen Cage, knew Blair for many years and asked if he would take the lead on BBQ at the tasting room. It was perfect timing for Blair, as both of his kids had finished school and he now has time to focus on his passion. He enjoys learning more about the restaurant industry every day, meeting amazing people at the tasting room and hearing their stories, and cooking-up delicious BBQ!
A few words from our founder and general manager.
This beer is perfect for a summer day
Enjoyed the All American Blonde Ale. Smooth and consistent, this beer is perfect for a summer day. It's awesome this brewery is veteran owned and honors those who have served. Proud to patronize them and will do so again.
Arthur Swift
Google Review
The Warrior IPA is super smooth with well balanced hops and and sweet malt. I will be back, that is for sure!
My boyfriend and I are huge fans of this brewery and could never get it by us. So I reached out to the owner/manager about how I was passing through and would love to buy some beer. Although they were closed, he opened for 15 minutes while I swung by and was incredibly accommodating and helpful.