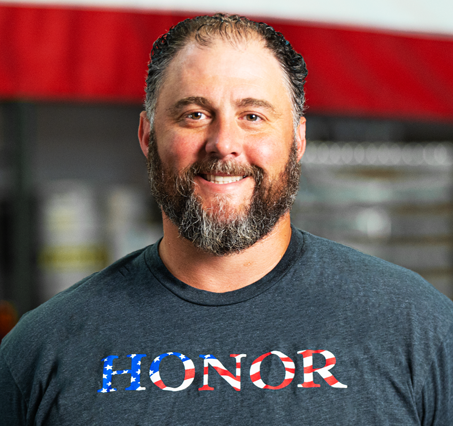 Favorite Honor Beer:
Cherry Wheat
"Life is short and you have to enjoy it. " - Tre
Tre was born in Stuttgart, Germany; raised in Chantilly, Virginia, and graduated from Chantilly High School. His father was active-duty military, and made the sacrifice to put his career on pause in order to allow their family to stay in the Chantilly area, something Tre is forever grateful for. Tre graduated from the Air Force Academy and was active-duty Air Force for four years. While stationed in the Tidewater area, he worked as a Manpower Officer and then cross-trained over to a Contracting Officer position, which appealed to Tre because it was more business-based. After leaving the Air Force, Tre moved back to the Northern Virginia area to be closer to his family. He watched from afar as his dad launched Honor Wine and Honor Brewing, and once the dream became a reality, Tre stepped-in to help with the business metrics side. Being an Army brat, Tre knows how rare it is to be part of a tight-knit community, and he is committed to the mission of giving back to the community that has been his home for so many years.
A few words from our founder and general manager.
This beer is perfect for a summer day
Enjoyed the All American Blonde Ale. Smooth and consistent, this beer is perfect for a summer day. It's awesome this brewery is veteran owned and honors those who have served. Proud to patronize them and will do so again.
Arthur Swift
Google Review
The Warrior IPA is super smooth with well balanced hops and and sweet malt. I will be back, that is for sure!
My boyfriend and I are huge fans of this brewery and could never get it by us. So I reached out to the owner/manager about how I was passing through and would love to buy some beer. Although they were closed, he opened for 15 minutes while I swung by and was incredibly accommodating and helpful.